SER modules with 16 to 64 inputs and outputs
Simply control it with commands via the terminal!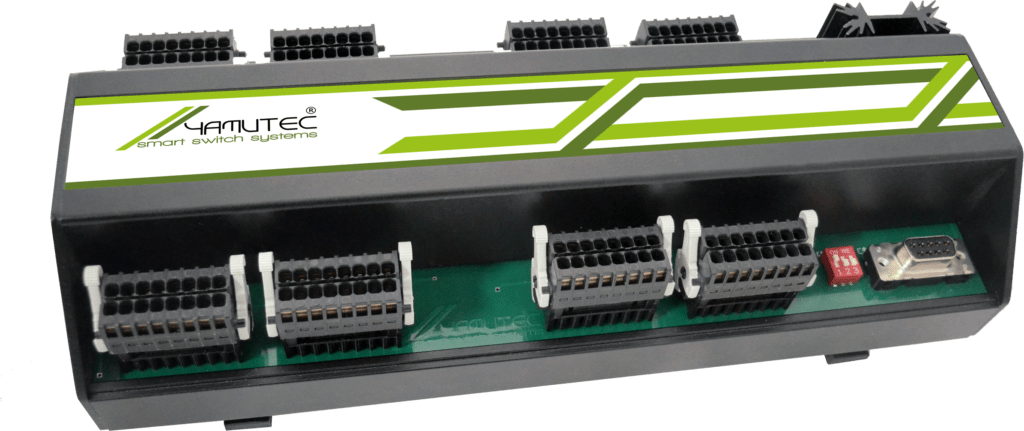 The print relays of our modules can switch loads of up to 3A or 90W. We offer switching modules with 16 to 64 inputs and outputs that work with a maximum switching voltage of 36V AC or 30V DC. Thanks to the multi-connection system, our relays are also 100 percent protected against mismating. Coding is done by cutting off the coding lugs. Built-in control LEDs allow the activity to be read quickly.
Our Yamutec® SER modules are designed for control tasks and the acquisition of voltages. That is why they are often found in the control of production processes and are also frequently used in laboratories. For software development, we have developed our own API for you. The YMLib API allows you to individually adapt our SER modules to your application using VB6, VB.NET, C# or C++.
Product overview
SER relay modules
16 relay modules
32 relay modules
64 relay modules
SER opto modules
16 opto modules
32 opto modules
64 opto modules
SER hybrid modules
8 hybrid modules
16 hybrid modules
32 hybrid modules
On-board coding switch for baud rates 2400, 9600, 57600 and 115200 bit/s.
On-board coding switch for switching between text mode and prog mode

Galvanic isolation of inputs and outputs

The modules meet the EMC and RoHS standards
Here's how it works
You will find all of ours above SER output and Input modules listed, as well as an overview of the number of inputs and outputs as well as the load capacity. When you click on the individual products, you will be redirected to the detailed product description. If you have any questions about your purchase decision, please contact us support.
Or directly at: +49 9131 930 73 50
General technical description
Specially designed for the harsh environment in a production hall, our SER modules are equipped with a robust aluminum housing. This allows you to mount the SER relay modules or optocouplers on a top-hat rail or on the wall. For individual solutions contact us simply.
SER relay and input cards with Plug and Play technology
Thanks to the RS232 interface, our SER modules do not require any driver installation. Simply plug it in and you're ready to go. In addition, communication is more reliable and up to 115,200 bits/s faster compared to standard modules. You save time thanks to the plug and play technology of our Yamutec® modules, as there is no need for time-consuming driver installation.
Timeout function – Protects your load system in the event of a control PC failure
We have in ours SER output modules and in the SER input modules a timeout function integrated. This is an input/output protection that automatically opens the relays of the Yamutec® module if communication with the control PC is lost. This can happen, for example, in the event of a software error or a system crash. For more flexibility, you can specify the period after which the timeout function should take effect. Set your desired timeout period in second increments.
Additional protection via optocoupler
The built-in optocoupler ensures galvanic isolation of the inputs. This means your control PC will not be damaged in the event of overvoltage or incorrect polarity.
The best thing about a SER module
The SER modules can be easily controlled with the most common HyperTerminal software. The SER modules do not require any driver installation. The Data transfer rate of SER modules is up to 115200 bit/s. It is also possible to set the baud rate to 2400 bit/s, 9600 bit/s, 57600 bit/s or 115200 bit/s using a DIP switch on the front. SER modules are the same Plug and play. That is, a SER relay module or SER optocoupler is ideal for large control systems that need to manage many modules. The SER switching modules are also very suitable for quick commissioning.
Request an individual offer for a SER module
At the top of this page we have all of ours for you SER output and SER input modules listed. You will find information on the number of inputs and outputs as well as the load capacity. In addition to optocoupler modules for signal acquisition and relay modules for switching tasks, we also offer hybrid modules. These combine the properties of both technologies and enable the simultaneous processing of signals and switching of loads. If you have any questions about your purchase decision, please contact us support.